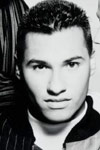 The Scotsman is tonight reporting:
The former lead singer with boy band Brother Beyond was charged with trying to pick up a street prostitute in London's seedy King's Cross red light district. But friends of the former model claimed the accusation was 'ludicrous' because he is gay. Moore is to appear at Highbury Corner magistrates court in north London tomorrow charged under the Sex Offences Act. [source]
And more on this story from Google.
UPDATE: 6 JUNE 2004: Moore pleaded guilty to soliciting a prostitute at Highbury Corner magistrates court.