I really should start a category on London's South Bank because I mention it a great deal and it really is one of the most wonderful areas of London. If you're a visitor to this great city you really must spend an afternoon walking the South Bank: start at Waterloo and the London Eye and head towards Tower Bridge (and beyond). when I first arrived here it was an area that had little to offer; it was dead and quiet but now it's vibrant and alive.
Over the past few weeks PY and I have explored a little more of London on foot and I really do enjoy the place. On the Monday after New Year we wandered around High Holborn and Farringdon areas, near The Guardian's central London base. It was a quiet Bank Holiday and yet it was – strangely – alive. We also crossed the bridge to the Tate Gallery which is probably the only gallery space I can truly say I enjoy. The Turbine Hall, which housed The Weather Project, is currently home to Bruce Nauman's Raw Materials – which is a soundscape of 22 spoken texts. Some are clearly audible and some not so clear but as you walk through the hall you get this most amazing sense of sound. It works better if you keep moving (rather than stopping to listen) but you'd be wise to adjust to the sound first. It wasn't as much of a communal event as The Weather Project but it was totally unexpected, thrilling and energizing. You can get a taste online at the Tate's site.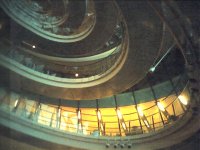 Last weekend we went to City Hall (which I have mentioned before) but this time we were able to get inside and head to the top. It's a building of unexpected contrasts: the building looks wonderful and they have revitalised the whole area but the office space inside looks cramped and uncomfortable. Given the climbing spirals of the building I would have expected the view from the top to be better. Unfortunately, the main viewing area looks the wrong way: great views over the south but you want to see London's landmarks. It was late in the day when we arrived which meant there were no crowds and we were able to find our house on the satellite pictures on the floor of the basement. Sadly, however, I don't think the lighting scheme is brilliant at all – they could do so much more with it.
While we were there I rode the snow slide at The Tate (basically a silly slide that you descend almost buried in an inflatable tyre-like object). Silly but cheap and amusing. Then we crossed Tower Bridge (always a stunning experience) to go and have a look at the stunning Swiss Re tower and walk around The City – which is, of course, almost dead on a Saturday afternoon. It's a rather unnerving contrast to London's West End which is full of people on a Saturday.
Yesterday, we went to Marble Arch and had a go on the ice rink that has been placed there for the winter. I haven't been on skates for years and I really liked it – although there's no chance I could go round the rink without holding onto the side at some point. PY was not quite so in love with the experience which is a great shame and I am going to have to find ways to convince him to come again. I'll work on it.
Once again I can honestly say I love London.